Netflix's The Game Changers: Is It Backed By Science?
15 Dec 2019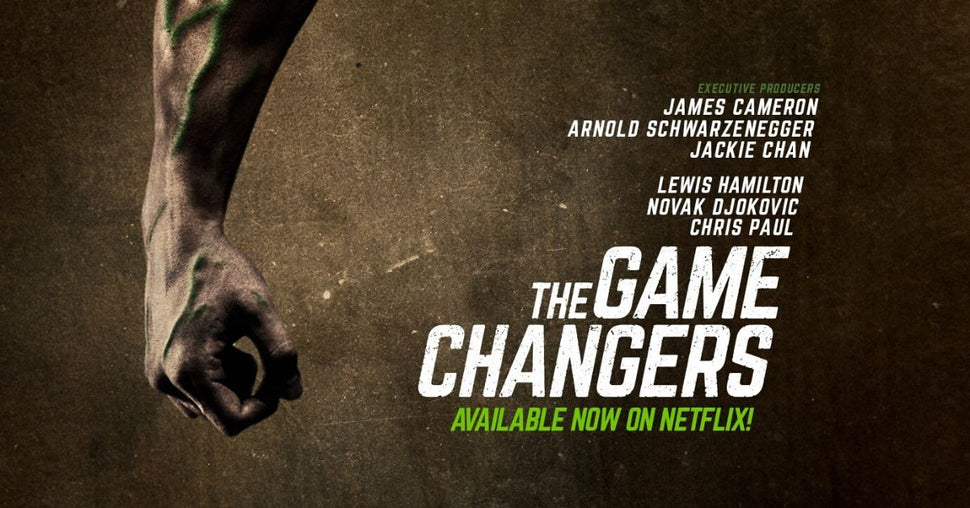 Greta Thunberg's talk at the United Nations pushed all of us to consider that climate change and environmental degradation pose an extremely real existential threat to our planet. When the stakes are this high, it's worth putting all the cards on the table, including veganism. I agree that this concept can be a hard sell to most 'full-blooded men', especially in parts of the world and in communities where meat-eating is the norm. This is precisely why The Game Changers series on Netflix, caught my attention (aside from the buzz online), it attempts to make that sale and does a pretty good job too.
The Game Changers: The Good
Image Courtesy: Facebook https://www.facebook.com/gamechangersmovie/photos/a.941106099385040/1404921503003495/?type=3&theater
I say that The Game Changers does a good job of what it sets out to do because it is hard-hitting and evocative, creating an emotional connect with viewers that is necessary for any impactful documentary. (We'll get to the science later.) Going by most of the game changers reviews online, it's obvious that the documentary film has had the desired impact. From the start, former MMA fighter, James Wilks reels you in with his narrative that takes you through his journey to veganism. Filled with record-setting athletes who boast sculpted physiques and explosive power, the documentary follows a slick presentation style with statistics, excerpts from scientific studies, and powerful celebrity testimony. There are other documentaries that have done similar things too, so what's so different about The Game Changers? It's all about the message and its targeted audience.
The Game Changers isn't aimed at those who have already jumped onto the vegan bandwagon and need reinforcement for their choices. It's directed at quintessential meat-eaters. It doesn't attempt to horrify them or question the morality of their choices. Instead, it focuses on the point that veganism isn't just healthy and eco-friendly, but is tough and 'macho'. It does so by using a cast of 'manly' athletes and fitness icons, who can attest to the benefits of veganism. From champion cyclist Dotsie Bausch to Olympic weightlifter Kendrick Farris and even the Terminator star Arnold Schwarzenegger, the documentary has a parade of professional athletes who make the case for veganism. Their message is that the shift to plant-based eating helped them with faster recovery and strength gains, while also improving rehabilitation after injuries. These arguments are reinforced in almost every game changers netflix review that I've come upon, although their focus is often myopic.
Of course, celebrities alone wouldn't suffice to make the case for a plant-based diet. This is where the statistics from studies and points made by talking-head doctors help support the arguments, demonstrating benefits for every aspect of health from cardiovascular endurance to a man's erectile performance! The Game Changers succeeds at dispelling the notion that veganism is only for flower-power hippies or the myth propagated by carnivorous corporations that 'real men eat meat'. It clearly demonstrates that plant-based diets are a viable choice for athletes and muscle men, as even the most critical game changers review acknowledges.
The Game Changers: The Bad & the Ugly
While there's a lot to love about The Game Changers, let's be clear that this a documentary with an agenda, not a scientific peer-reviewed paper. This is a fact that's easy to miss when you read some of the game changers movie reviews that have nothing but praise for the film. As I mentioned there are plenty of statistics and studies that flash across the screen, but if you dig deeper, you'll find that the documentary relies on some bogus studies, pilot studies, and memory-based dietary assessment. An honest game changers review would recognize these flaws.
The launching point for the documentary is itself based on a bogus study – that elite warriors like gladiators have been powered by plant-based diets. However, this is a half-truth as the study referenced is an article, not a study. Moreover, if you actually read the article , you'll find that gladiators primarily followed a plant-based diet not to get healthy or improve athletic performance, but to increase subcutaneous fat for protection of underlying muscle and organs and for a gorier spectacle in the arena.
Similarly, the pilot study references are problematic as these studies typically have incredibly small groupings of test subjects and their findings are often not duplicated in more comprehensive studies. Case in point here is Wilks' reference to a 2010 study to suggest that milk consumption lowers testosterone levels. The sample size for the study was (wait for it) seven men. Yeah, you read that right! Once again, the portrayal of findings was also deceptive, as the study actually found that the effect of reduced testosterone secretion was temporary.
When it comes to the nutrition studies that are frequently flaunted in the documentary, it's worth noting what the experts have to say about these memory-based dietary assessment methods. According to a manuscript published in Mayo Clinic Proceedings , these kinds of methods "cannot be reliably, accurately, and independently observed, quantified, and confirmed or refuted," as they follow a pseudoscientific approach, rather than a scientific method. These facts run counter to the game changers reviews that have nothing but accolades for the film.
The Last Word
https://www.facebook.com/gamechangersmovie/photos/a.941106099385040/1372925542869758/?type=3&theater
Despite my pointed criticisms, I'd still recommend The Game Changers to anyone who hasn't watched it yet. It does an important job of tearing down the notion that you need to eat meat to be strong and build muscles. While the studies referenced may be weak, the anecdotal evidence is powerful. The documentary simply couldn't have achieved this goal if it only followed scientifically sound arguments on sustainability instead. Besides, Dotsie Bausch makes an important point that dietary and lifestyle changes don't have to be an all-or-nothing proposition. Even small changes can have a huge impact on reducing your carbon footprint.
Categories
Choosing a selection results in a full page refresh.
Press the space key then arrow keys to make a selection.