Fish Oil: The Magic Potion For A Healthy Heart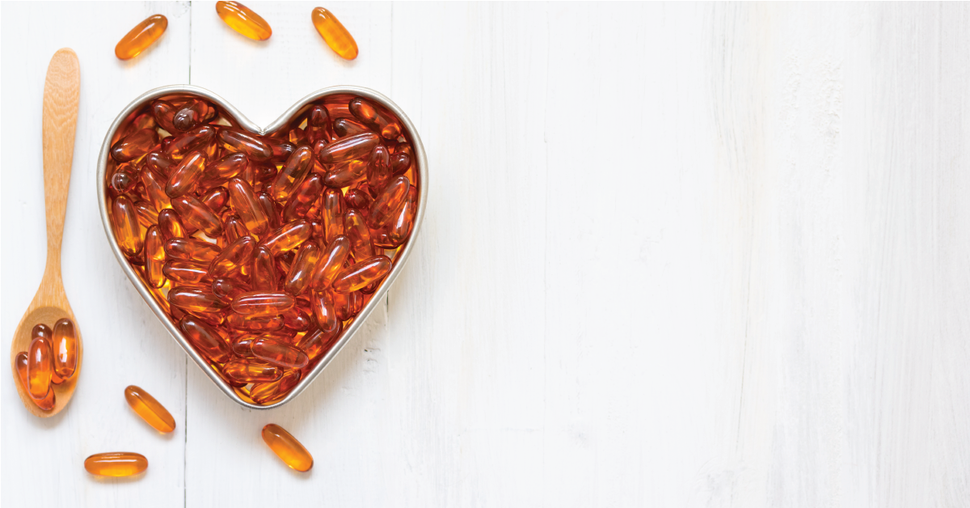 If you think you're too young to be worrying about heart diseases, think again. Heart diseases are no longer solely age-related, everything you do while you're young has a significant impact on your heart in the later years to come. The prevalence of heart diseases in young people is rising at an alarming rate. Heart diseases are rising in Indians 5-10 years earlier than in other populations across the globe . In the last 26 years, the fatality rates in India due to heart diseases have increased by 34%. Let's take it upon ourselves to pay attention to your heart's health and ensure that you take good care of it to reduce the risks of cardiac ailments.
When it comes to heart health and heart care, fish oil has always taken the top spot. So what is it about this magic nutrient that makes it so heart-healthy? We'll see.
Think You're Too Young To Worry About Heart Diseases? Heart Diseases don't know Age
Heart diseases that used to be a health concern one would worry about as they grow old, have now started affecting people at a very young age. So, if you think that being in your 20s or 30s means having plenty of time to start worrying about your heart health, you're wrong.
For the age group between 25 and 35 years, heart diseases are the fourth-leading cause of death in both sexes. And for the age group 35-45, it is even deadlier – the second-biggest cause of death in men and the third biggest cause of death in women .
The rise of obesity and diabetes at a young age is a contributing factor to the rise of heart diseases at a young age. Another contributing factor is the onset of plaque accumulation in the arteries that begins at a young age and can lead to severe complications later .
Cut The Risks Of Heart Diseases With Fish Oil
Fish oil is loaded with vital nutrients such as omega-3 fatty acids. This oil is extracted from the tissues of oily fish such as anchovies, herring, mackerel, and tuna. Fish oil generally consists of 30% omega-3 and a considerable amount of vitamin A and vitamin D .
Studies suggest that the addition of omega-3 fatty acid (supplied by fish oil) to a healthy diet, may help prevent primary and secondary coronary artery disease (CAD). Omega-3 fatty acids found in fish oil may also benefit heart health by :
Decreasing Triglycerides
The most popular benefit of omega-3s for heart health is the ability of fish oil to decrease levels of triglyceride in the body. Triglycerides are a kind of fat that is found in your blood and stored as body fat. With the increase in the number of triglyceride molecules, fatty build-up also increases, especially in the artery walls which increases your risk of heart attack and/or stroke.
Lowering Blood Pressure
High blood pressure is dangerous because it can lead to heart attack and stroke. What omega-3s do is that they help reduce the systolic and diastolic blood pressure levels in individuals and therefore have been seen as favorable for heart health.
Reducing Plaque Formation
Plaque is made up of fats, cholesterol and calcium, and can accumulate in your arteries. The accumulation of plaque limits the flow of oxygen-rich blood within the body. Omega-3s found in fish and fish oil may help in preventing the accumulation of plaque and further reduce the risks of cardiac events.
Reducing Risk Of Arrhythmia
Arrhythmia refers to the abnormal beating of one's heart. Often, arrhythmias may be harmless. However, some arrhythmias such as atrial fibrillation (AFib) may increase the risk of a stroke or other heart-related complications. In some studies, it has been observed that the intake of omega-3s has decreased the risk of arrhythmias substantially, however, it is not effective in treating them
Reducing Inflammation
Omega-3s contain anti-oxidant and anti-inflammatory properties which facilitate the supply of nutrients to endothelial cells in arteries and therefore help prevent cardiovascular diseases.
Need for supplements
Including fish that are rich in omega-3 in the diet may not be the first choice for many. The strong taste and the peculiar smell may put off many. For people who are not fans of the taste and smell of fish oil, there's an alternative – supplements! Fish oil supplements are equally potent, and as an added benefit, they don't have the foul taste and odor.
Setu Fish oil range includes:
Setu Fish Oil, an all-natural supplement containing 1,000 mg of essential omega-3 fatty acids, EPA, DHA and DPA. Enriched with organic MCT oil for superior absorption, this supplement will help keep your heart healthy and happy.
Triple Strength Fish Oil which comes in a softgel form. These softgels are enteric-coated and help in reducing reflux while optimizing the dosage of various omega-3 fatty acids such as EPA and DHA, 3X more than the average dose.
Setu Veg Omega 3 is a rich source of DHA in a vegetarian form. We source it from naturally fermented microalgae which are considered to be the world's richest and primary source of Omega 3 DHA. The supplement is beneficial for heart, skin, brain, joint and overall health. Encapsulated in a revolutionary, easy-to-swallow, liquid-filled capsule (V-Fill) for maximum absorption, the supplement is a truly vegetarian formula from the inside out. Consume one capsule daily with your breakfast or lunch for the best results.
We use all marine-sources fish such as anchovy, cod, mackerel, and sardine for the formulation of our fish oil supplements. We also take utmost care to avoid contaminants like mercury and other heavy metals. While our supplements are natural, clinically studied and safe, we recommend consulting your healthcare provider before beginning any supplement regimen.