Run Like The Wind: 9 Tips To Reach The Finish Line Faster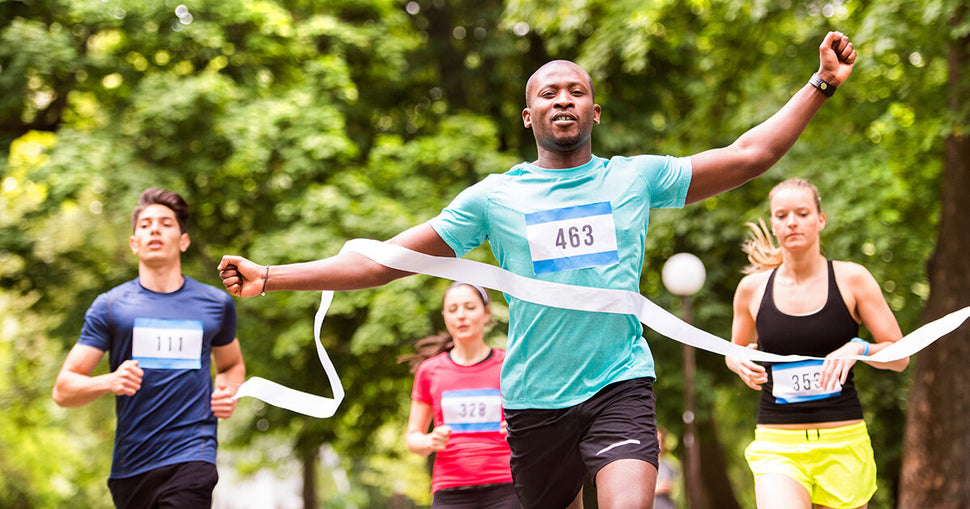 Are you preparing for your first marathon or simply enjoy running? This article will help you run stronger, faster, and for a longer time.
Every year, more than a hundred thousand people participate in marathons across the globe. The rising health consciousness and social media influence are the primary causes of motivation for this participation . Whether a newbie or an experienced runner, most people try to better themselves by improving their skills and running time. The latter is crucial when you are trying to finish the whole marathon. To help you with this, here are a few tips to run faster that should help you get to the finish line a little quicker!
Handy Hacks For Marathon Runners
1. Strength Training Exercise
Can you improve running time by running alone? The answer is no, you need to try multiple things, especially, strength training that aids in building endurance and reduces risks of injuries . There are many strength training exercises targeting the main muscles for running such as the plank, Russian twists, scorpion, back extensions, rotational shoulder press, overhead forward lunge, etc.
2. Practice Internal Traning
A type of training that combines low and high-intensity workouts with rest time in the middle is known as interval training. Perform a quick 10-minute warm-up session by jogging slowly, then run at a high-intensity pace for two to five minutes, again jog for the same time to recover. Repeat this four to six times in one session, and try this around three times every week till you attain the desired speed. Interval training is preferred by most athletes as compared to long periods of continuous training .
3. Keep Track Of Your Pace
This is perhaps the most important of all tips to run fast in a marathon. You need to keep checking if you are consistently running at a particular speed to match your final goal. In other words, if you are planning to take part in a two-hour marathon, you need to practice running and finishing the marathon in two hours, and for this, you need to keep up a consistent pace. This way you can significantly reduce your running time and build endurance.
4. Set Higher Targets
Sometimes a spirit of competition can drive you faster towards your goals. For instance, if you are preparing for a half marathon, undertake training for a full marathon so you have a high level of endurance to finish the former, as well as aim for a full one next time.
5. Eat And Drink Right
Proper nutrition and hydration are necessary for any training program, it helps you lose weight as well as support your exercise routine. Plus, if you don't eat right, it can lead to fatigue, muscle cramps, and nausea which will prevent you from hitting top speed. Stay hydrated by drinking plenty of water before and after running.
6. Sleep Well
Getting good sleep is equally important along with diet and exercise for a runner. Lack of sleep can negatively impact your running form. When you sleep, your body repairs and regenerates the damaged tissue from the day's workout, making it ready for the next workout. Runners who adopt a sleep management strategy can perform faster than runners who are sleep-deprived .
7. Download A Running App
Download a running app that will help you create a customized workout plan and will help track your progress on a daily and weekly basis.
8. Get The Right Gear
Make sure to get the right pair of shoes that provide the correct arch and ankle support. Wearing the wrong pair of shoes can lead to serious injuries or long term hip, knee, back, and feet problems. Also, get a smartwatch or a health tracking device so you will get to know about the pace at which you are running and the progress so far.
9. Rest And Recover
It's essential to provide some time for your body to recover after running. Make sure to give yourself at least a day of break every week. When you look after your body well, it will help you reach levels that you have never expected.
10. Meditate
There are various studies that suggest that meditation works wonders for runners. It helps declutter negative thoughts and adds a burst of positivity in your mind and body. Plus, it also helps relax your muscles and give you space to listen if your body is hurting. An optimistic, calm mindset and a refreshed body helps you run better and faster than when you are in a chaotic mood.
Just like how Rome was not built in a day, never expect the best results in a week. It is essential to stay patient and focused throughout the training. Consistent preparation can assure you consistent performance. We hope these tips will help you in making a stronger, faster, and efficient runner.
Deep Sea: Fish Oil 1000mg